TRU‑INFRARED™
TAME THE FLAME
CHANGE THE GAME
About Tru-Infrared™
TRU-Infrared™ cooking technology is inspired by grilling methods used in restaurants and steakhouses for decades.
Make your food more delicious, your cookouts less stressful and your good times more enjoyable.
HOW IT WORKS
MEET THE EMITTER PLATE
The special sauce of TRU-Infrared cooking technology is the emitter plate that sits above the flames and below the grates.
IF YOU'RE STANDING IN THE STORE OPEN UP THE HOOD AND CHECK IT OUT FOR YOURSELF
Traditional grills cook your food with convective heat which heats the air.
TRU-Infrared grills use the emitter plate to absorb heat from the burners and evenly distribute infrared heat to cook your food directly.
INFRARED HEAT
EMITTER PLATE
TOP-PORTED GAS BURNER
GRILL BETTER FOOD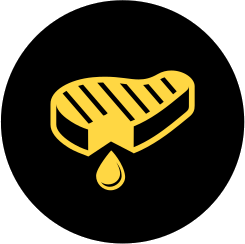 JUCIER FOOD
By cooking your food at the grill surface, TRU-Infrared locks in flavor and makes your food juicier. That means you'll enjoy more delicious steaks, burgers, chicken or whatever new recipe you're grilling.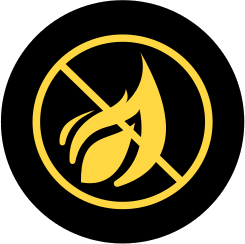 PREVENTS FLARE-UPS
Nothing ruins cookouts faster than flare-ups and charred food. TRU-Infrared prevents flare-ups by creating a barrier between the food and the flames—helping you stop bad cookouts before they start.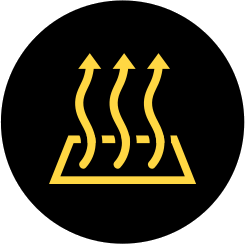 EVEN HEAT
TRU-Infrared uses the emitter plate to distribute even infrared heat to your food, eliminating hot and cold spots (and guesswork).
UNDER THE HOOD
PORCELAIN‑COATED CAST‑IRON GRATES
Durable grates built to withstand the elements and your appetite.
EMITTER PLATE
A stainless-steel barrier between the food and the flames that disperses heat evenly across the grilling surface.
SUREFIRE® IGNITION
One touch and your grill is ready to go. No matches, lighters or hassle.
LED KNOBS
LED‑illuminated controls for using your grill with ease.
DUAL FUEL® ENABLED
LP tank ready and direct gas line compatible with conversion kit.
DURABLE CONSTRUCTION
Corrosion‑resistant materials withstand the elements in any environment.